Shortbread with Rosemary Steeped Candied Mandarin Orange Peel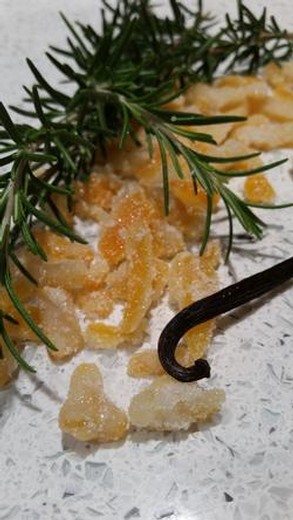 Recipe Date:
August 30, 2019
Measurements:
Imperial (US)
Ingredients
cup whole wheat pastry flour
1/4 cup sugar
1/4 tbsp salt
1/2 cup (1 stick) chilled unsalted butter, cut into 1/2-inch cubes
1 tsp vanilla extract
Directions
Peel 5 mandarin oranges.
Cut into desired size strips.
Cook in large pot of boiling water 15 minutes; drain, rinse.
Cook in large pot of boiling water 15-30 minutes, add up to 6 sprigs of rosemary to boiling water, drain and rinse.
Bring 3 cups sugar and 3 cups water to boil in medium saucepan over medium heat, stirring to dissolve sugar.
Add peel.
Return to boil.
Reduce heat; simmer until peel is very soft, about 45 minutes.
Drain.
*Note, the syrup that is drained can be saved for alternate uses if desired.
Toss peel and 1 cup sugar on rimmed baking sheet, separating strips.
Lift peel from sugar, let stand until coating is dry. Mince.
Preheat oven to 300°F.
Mix flour, sugar, and salt in medium bowl to blend, fork is best.
Add 1/2 cup butter, 1 teaspoon vanilla extract and rub in with fingertips until mixture resembles coarse meal, do not overwork dough.
Add 1/4 cup of minced candied orange peels.
Gather dough together and form into ball; flatten into disk.
Roll out dough on lightly floured surface to 1/2-inch-thick round, use cookie cutter to desired size/shape.
Place onto a cookie sheet.
Bake for 20-30 minutes or until golden brown.
You know you want to
Sign Up For Our Newsletter
Keep up to date on the latest wine releases, events, and promotions.