Slow Roasted Lamb Tacos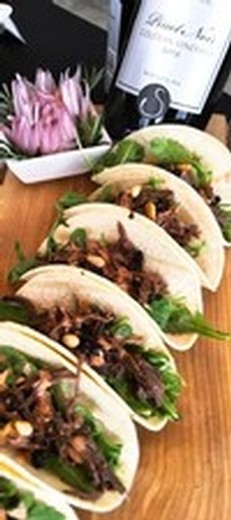 Recipe Date:
August 30, 2019
Measurements:
Imperial (US)
Ingredients
1 lamb shoulder or leg (approximately 5 1/2 pounds)
4 shallots, halved but not peeled
6 cloves garlic
sea salt
2 1/4 cups boiling water
1/2 cup currants
1 bag of arugula
1/2 cup pine nuts
1/4 cup mayonnaise
1/2 tsp smoked paprika
1 lime wedge
Directions
Preheat the oven to 250 degrees F.
In a large roasting pan on the stove top, brown with the fat-side down.
Remove lamb from the pan and set aside.
Add shallots and garlic to the pan and sauté.
Sprinkle with salt and then pour the water over the vegetables.
Bring water to a boil and then place the lamb back in the roasting pan - this time fat side up.
Tent with foil and put in the preheated oven.
Leave it there while you sleep… it will be perfect by lunchtime the next day.
But the point is, at this temperature, nothing's going to go wrong with the lamb if you cook it for a little less or a little more.
If you want to cook the lamb the day you're going to eat it, heat the oven to 325 degrees F and give it 5 hours or so.
About 1 hour before you want to eat, remove the lamb from the pan to a large plate, reserve the drippings.
To finish the lamb, simply pull it into pieces with a couple of forks on a large plate almost shredding it.
Sprinkle with more sea salt.
Sauce: mix the smoked paprika and mayonnaise well, add a squeeze of a lime and strained lamb drippings to thin the sauce.
Assemble the tacos, by putting a small bed of arugula, then some of the lamb, pine nuts and currents then top with the sauce.
You know you want to
Sign Up For Our Newsletter
Keep up to date on the latest wine releases, events, and promotions.