Pink Peppercorn & Sel Gris Grissini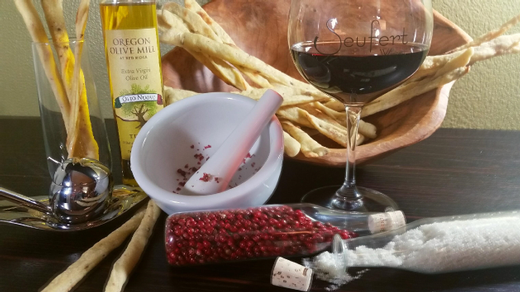 Recipe Date:
August 30, 2019
Measurements:
Imperial (US)
Ingredients
3/4 cup water
2 cups all-purpose flour
1 tbsp honey
1 package active dry yeast
3 tbsps extra-virgin olive oil
1 tbsp crushed pink peppercorns
1 tbsp sel gris
Directions
In a large bowl, stir the water with 1/2 cup of the flour, the honey and the yeast.
Let stand until foamy, about 10 minutes.
Stir in the remaining 1 1/2 cups of flour, the olive oil, pink peppercorn and salt and knead until a smooth dough forms.
Transfer the dough to a lightly oiled bowl, cover with plastic wrap and let stand in a warm place until doubled in volume, about 1-2 hours.
Preheat the oven to 425°.
Line 2-3 large baking sheets with parchment paper.
Punch down the dough and cut it into 3 equal pieces.
On a floured work surface, roll out each piece of dough to a rectangle.
Cut the rectangles lengthwise into 1/2-inch-wide strips.
Arrange the strips on the prepared sheets.
For crispier sections throughout the grissini, twist in various places.
Let stand until puffed, about 15 minutes.
Bake the grissini for 8-12 minutes, until golden brown.
You know you want to
Sign Up For Our Newsletter
Keep up to date on the latest wine releases, events, and promotions.