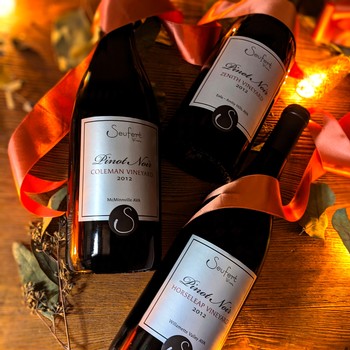 Wine Club Exclusive Library Single Vineyard Pinot Noir Trio
This three pack features distinct terroir expressions of the same vintage. Dive into all three at once, discovering and celebrating the unique flavors of three locations.
Enjoy a map and tasting notes that guide you through the tasting comparison.
Zenith Vineyard Pinot noir, Eola-Amity Hills AVA 2012
Luscious fruit anchored by rich tannins. Aromatics of muddled strawberry and an herb garden after a spring rain. Palate firm but not heavy brings candied orange peel, currant and blackberry. Tannins balanced in bold and smooth nature, rich on the back palate finishing clean and mid center.
Horsleap Vineyard Pinot noir, Willamette Valley AVA 2012
Aromatics of freshly baked red brambles and slated minerality. Palate weighty with marionberry chutney and undertones of weathered leather. Tannins fully integrated and greeted with balanced acidity. Rich finish on the back palate and fine grain tannins that move to the front center of the tongue.
Coleman Vineyard Pinot noir, McMinnville AVA 2012
Rich baking spice, earth, and Tahitian vanilla bean. Pie cherry, leather, and woody herbs on the palate. Bold and balanced mouthfeel. Spiced cranberry sauce, orange peel, and prominent weighted tannins. Smooth and rich, a luxuriously heavy and dry expression of the McMinnville AVA. Fine grain tannins finish on the tip of the tongue. Rich but not weighty, balanced with acidity.