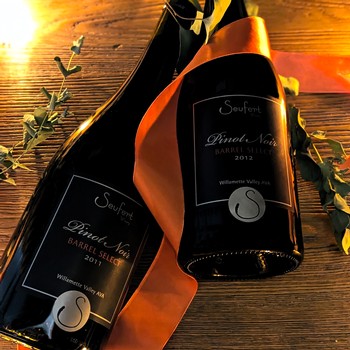 Barrel Select Pinot Noir Duo
Barrel Select is the initial mold of the Winemaker's Reserve Series. Unique, distinctive and representative of it's vintage. An integration of tannins, acid and structure that excells.
Barrel Select Pinot Noir, Willamette Valley AVA 2011
With aromatics of baking spice, cedar, and weathered leather, this Pinot presents with a smooth, rounded mouthfeel. Hints of pomegranate on the tongue along with compact suede tannins lingering on the front and mid palate gives this wine its unique position among distinctive Willamette Valley Pinot Noirs.
Barrel Select Pinot Noir, Willamette Valley AVA 2012
This wine is complex, balanced and elegant. Cranberry and Le Panier Francais violet candy on the nose with flavors of blood orange and anise on the palate. Finishing with a bold, smooth mouthfeel, it's a prime example of well made Pinot noir that is built for aging. A celebration of the 2012 vintage, this is a multi-vineyard blend that offers a wonderful terroir expression of the Willamette Valley, all while effectively balancing out the vintage -it's true sense of time and place. Cases