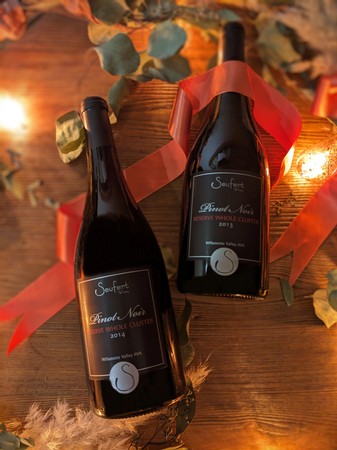 Wine Club Exclusive: Reserve Whole Cluster Pinot Noir Duo
Whole Cluster Reserve Pinot noir, Willamette Valley AVA 2013
Aromatics of vanilla, forest floor, and flint. Layers and undertones of sage and eucalyptus make way to sueded tannins on the tip of the tongue and finish. The mouthfeel is chewy and weighted with supple and robust tannins. Structured and balanced, this Pinot noir exemplifies a luxurious sensory experience.
Check out our Virtual Tasting Video: https://www.facebook.com/SeufertWinery/videos/3662914357114695/
Whole Cluster Reserve Pinot noir, Willamette Valley AVA 2014
Aromatics of eucalyptus, sage, and rose petal, this Pinot presents with a smooth, rounded mouthfeel. Hints of red currant on the tongue along with compact suede tannins lingering on the front and mid palate gives this wine a unique position among distinctive Willamette Valley Pinot noirs.